Custom Home in Sonora California
Framing package being assembled
Closed in before the first snowfall
This custom home in Sonora was sketched by the client with help from North Coast Packaged Homes. The construction and engineering drawings were prepared by Pacific Modern Homes drafting department. The home was prefabricated at the factory and shipped in panels to the job site for easy assembly.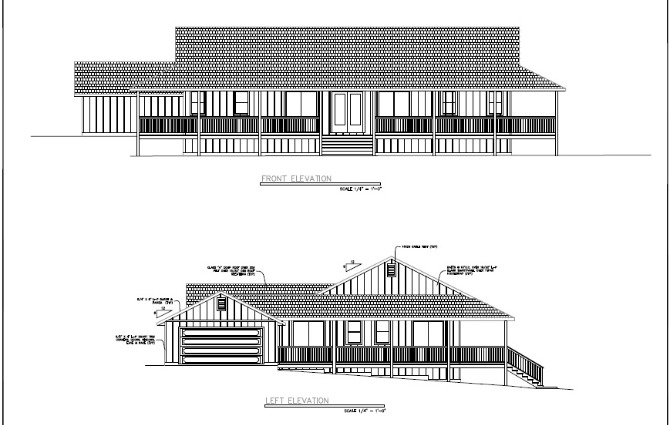 The panelization of custom home packages starts in many different ways. Frequently clients have fully engineered plans from an architect and a quote is needed for prefabrication of the custom home design.
More often a plan is needed either to fit the actual lot that a client has purchased or the client may have purchased the basic plan from the internet. Others come with literally piles of clippings, sketches and notes representing years of thinking about what they want in their dream home.
Our staff can help you organize this information to maximize your building site and your dreams. A Service Agreement will be completed between you and North Coast Packaged Homes prior to commencing work on your schematic design. Once your ideas and revisions are completed in a scaled drawing they are sent off to be drafted and engineered. Based upon the size of your home, you will have a firm price for your construction documents and structural engineering prior to any work starting.
Pacific Modern Homes will prepare your fully engineered construction drawings for submittal to your local building department for Plan Check from fully dimensioned floor plans and elevations including size and operation of windows, roof pitch and style and exterior materials. Please contact us for the various methods to create your schematic drawings.
Drafting Services Construction Drawings
Single Story Plan ($500 minimum)
Two Story Plan ($500 minimum)
Stand Alone Garage ($500 minimum)
California Fire Zone Enhancements

1.53 SF
$1.73 SF
$0.95 SF
$180.00 charge

Single Story with Slab Floor ($620 minimum)
Single Story with Raised Wood Floor ($620 minimum)
Two Story with Slab Floor at First Floor ($620 minimum)
Two Story with Raised Wood at First Floor ($620 minimum)
Truss Plan & Calculations
Retaining Wall
Pier and Grade Beam Foundation

$1.10 SF
$1.19 SF
$1.40 SF
$1.50 SF
$500.00 engineering charge
$750.00 engineering charge
$500.00 engineering charge

Custom Home Plans by your Architect and Engineer
We would be happy to give you an estimate for panelization of your custom home plans. Please complete this form and forward us a PDF of your plans either complete or in progress.
The next step would be a Guaranteed Quote from Pacific Modern Homes Inc. We will need two sets of your engineered plans to complete this quote either hard copies or we can print from your engineered PDFs for just a printing fee and there is a small processing fee.